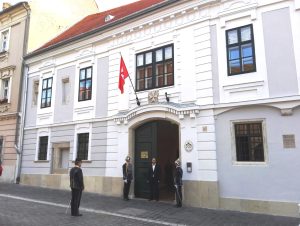 The Embassy of the Order Malta to Hunagary has its seat in Budapest.
Ambassador extraordinary and plenipotentiary: Dr. Heinz Anton HAFNER
Accredited staff:
– Mrs. Réka Mária Erőss, Minister-Counsellor
– Mr. Robert Hübner, Counsellor
– Mr. Béla Gábor Ugron, 1st Secretary.
P.A. to Ambassador: Mrs. Júlia Sági.
Our offices are open every Monday from 9:00 to 12:00 A.M.
Contact:
1014 Budapest, Fortuna u. 10.
hungaryembassy@orderofmalta.int